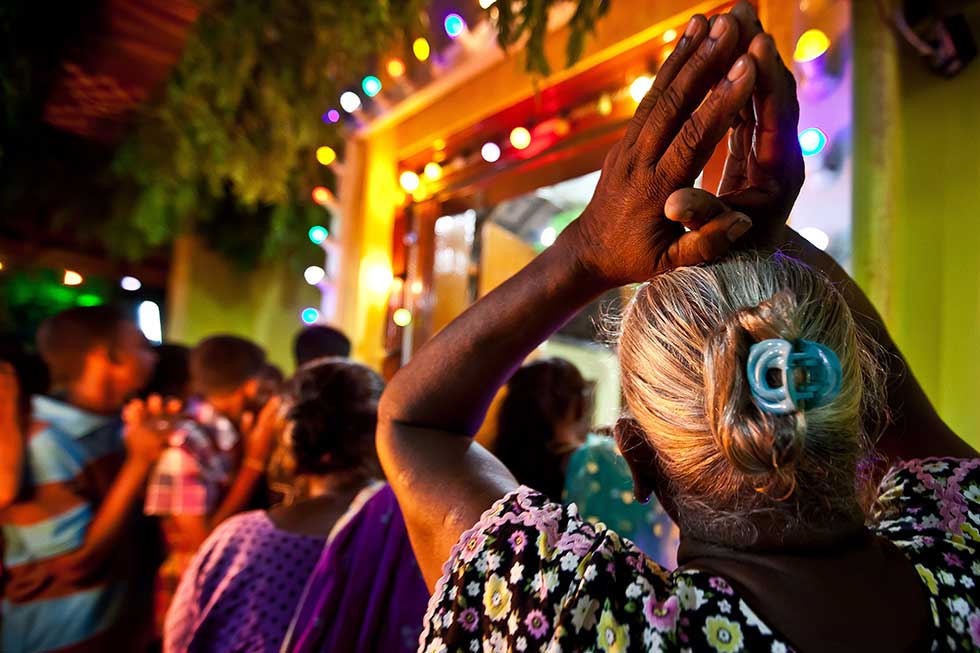 ---
In later years, nationalist, religious reformers/revivalists such as Arumuga Navalar and the Anagarika Dharmapala also sought to abolish the worship of subordinated, animistic, non-agamic (non-Sanskritic/Brahamanic) deities like Kannaki-Pattini whom they believed were polluting the purity of Hinduism and Buddhism. Navalar was severely critical of Kannaki and branded her as a Jaina Merchantess – "Camana Camaya Cetticci" (quoted in Ragupathy 1987), leading many temples dedicated to her in the North to re-name themselves as shrines to Durga, Rajarajeshwari, Bhuwaneswary and Parashakti and to re-structure their architecture and rituals according to agamic (Sanskritic) principles. Several Kannaki Amman temples in the Wanni that were either damaged or destroyed during the war have also sought to re-build according to agamic principles and have recently been taking out full-page advertisements in Tamil newspapers to announce their kumba abishekam (consecration). Videos of these rituals are also posted on the internet so that devotees in the diaspora (who are often the funders of such renovations) can stay abreast of major events occurring at their (former) local temple: http://www.youtube.com/watch?v=aZcfA_dRrVs.
The greatest storm weathered by devotion to Kannaki Amman, primarily in the North and East, was the three decades of war that traumatized, maimed and killed devotees, ritual performers and ritual practitioners and damaged or destroyed places of worship (for a list of these kovils, compiled by the Tamil Centre for Human Rights, see: http://www.tchr.net/religion_temples.htm). Kannaki Amman kovils were abandoned as populations fled shelling, the advance of troops or the declaration of High Security Zones. They were desecrated due to rapes that took place within them and were shunned by those who felt that she had abandoned them. Annual festivals at her shrines became occasions for forced conscription. However, her shrines were also places of refuge to those who were displaced, tortured, made mad with grief, and to those whose only recourse was to seek divine intervention when all else had failed.
---
References
Gunasekera, B (ed). 1900. The Rajavaliya. Colombo: Government Printer.
Gunasoma, Gunasekera. 1996. An Keliya: Panam Pattuva Asuren. Kottawa: Sara Publications.
Ievers, R.W. 1899. Manual of the North-Central Province, Ceylon. Colombo: Government Printer.
Knox, Robert. 1681. An Historical Relation of the Island of Ceylon in the East Indies. London: Chiswell.
Krishnarajah, S. 2004. 'Ilaththu Amman Aalayangal Oru Varallatru Parvei' Thillampathy Sri Sivakami Ambal Aalayam Kumbabishekam. Kondavil, Yalpannam.
Obeyesekere, Gananath. 1978. 'Gajabahu and Gajabahu Synchronism: An Inquiry into the Relationship Between Myth and History' in Religions and Legitimation of Power in Sri Lanka, ed., Bardwell Smith. Chambersberg, PA: Anima Books.
—————————— 1984. The Cult of the Goddess Pattini. Chicago: University of Chicago Press.
Parthasarathy, R (trans). 1993. The Cilappatikaram of Ilanko Adigal. New York: Columbia University Press.
Ragupathy, Ponnampalam. 1987. Ancient Settlements in Jaffna. Madras: Thillimar Ragupathy.
Rasanayagam, Mudaliyar C. 1926. Ancient Jaffna. Madras: Everymans Publishers Ltd.
Satkunam, M. 1976. 'Ilanthil Kannaki Valippattin Thottrmum Valarchiyum' Thiruketheeshwaram Thirukirada Thirumanjana Malar. Thiruketheeshwaram: Thiruketheeswaram Aalaya Thirupani Sabai.
Seneviratne, Anuradha. 2003. Anusmrti: Thoughts on Sinhala Culture and Civilization, Volume 1. Wellampitiya: Godage.
Sittambalam, C.K. 2004. 'Silambu Padivu Seithulla Amman Valiyadu' Thillampathy Sri Sivakami Ambal Aalayam Kumbabishekam. Kondavil, Yalpannam.
Sivasubramaniam. 2003. 'The Traditions of Kannaki Worship in Batticaloa.' Paper presented at the Second World Hindu Conference. Colombo, Sri Lanka.
Sukumar, Bala. 2009. Ilanthil Kannaki Kalacharam. Chennai: International Institute of Tamil Studies.
Warrell, Lindy. 1990. Cosmic Horizons & Social Voices. PhD Dissertation submitted to the Department of Anthropology, University of Adelaide.