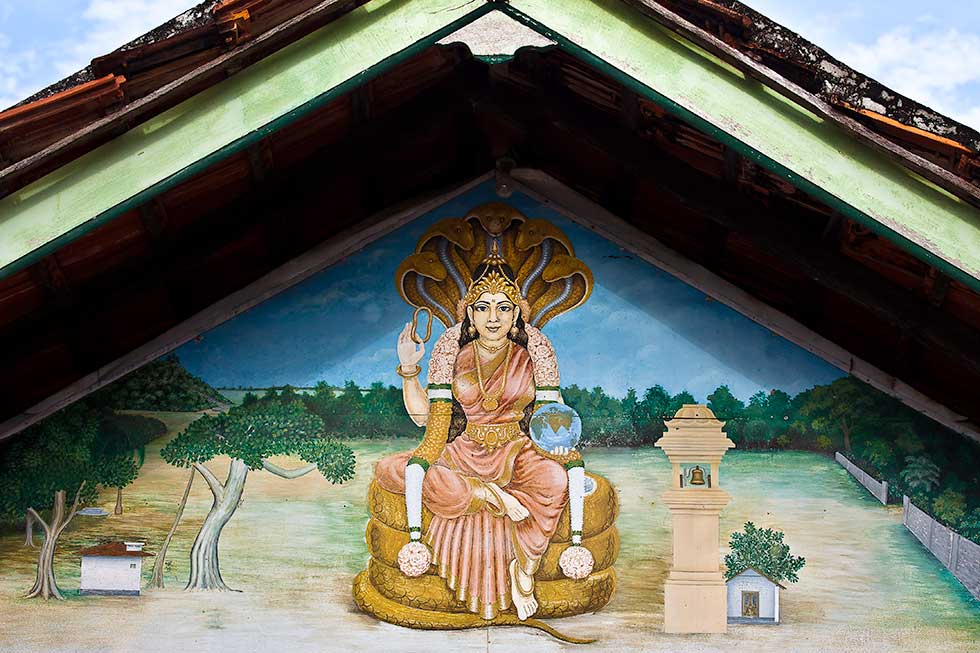 ---
Pattini – Kannaki Devotion in Sri Lanka
The goddess descends from the wind and cloud and sky
She looks at the sorrows of Sri Lanka with her divine eyes1
Devotion to Kannaki-Pattini is an inspiring example of Hindu-Buddhist syncretism in Sri Lanka. The goddess is revered by many Tamil Hindu and Sinhala Buddhist Sri Lankans, though rituals and practices of veneration vary between the two religions, and regionally. Ironically, a significant number of Sri Lankans are unaware that she is a shared deity – an indication perhaps of the extent of the alienation between the two main ethnic communities in this small island nation. Tamil Hindus know her as Kannaki and Sinhala Buddhists as Pattini.
Pattini-Kannaki is also a fascinating and complex example of womanhood. On the one hand, she remains the chaste and loyal wife of Kovalan, despite his unfaithfulness and betrayal. But on the other hand, she is the outraged and vengeful widow who tears out her left breast and sets alight an entire city in her determination to redress injustice.
In a context where Sri Lanka is slowly emerging from three decades of civil war, and attempting to stitch together a social fabric tragically bifurcated into triumphant Sinhalese and defeated Tamils, it is timely to reflect on the shared history and traditions of Sinhalese and Tamils, Buddhists and Hindus.
As a sorrowing yet resilient woman who punishes but also offers succour to multitudes, Kannaki-Pattini is a symbol of hope to the many war widows and women-headed households now constituting a large percentage of the population. This hope is most poignantly articulated in Marilyn Krysl's short story about Rajeswary from Batticaloa who weathered unimaginable suffering until the tsunami bore her away: http://www.guernicamag.com/features/fire_inside/
---
1Excerpt from Pahan Pujava (offering of lights) quoted in Gananath Obeyesekere, The Cult of the Goddess Pattini (Chicago: 1984).